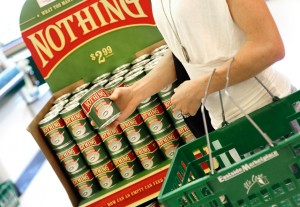 Dear Everyone,
We all need to laugh, as laughter is medicine to the bones and to the rest of the body- and I thought you would really enjoy the enclosed.
Have a blessed and joyful day.  With Jesus' great love, judge eve
WE LIVE IN DIFFICULT TIMES.
Developed in 2010, with Rhode Island food pantries under unprecedented strain, The Nothing campaign was created to raise awareness and funds to fight hunger.
By turning "Nothing" into a food brand, it managed to create a sense of empathy for the hungry in consumers for the hungry right at the moment that they were filling their shopping carts for their own families. It proved to be a powerful motivator as thousands of cans were purchased and online donations to the R.I. Community Food Bank increased by 42% from the previous year.
This success garnered several awards including the 2011 Gold Effie for effectiveness as well as a Gold at the Jay Chiat Awards for Strategic Excellence. The campaign has also been adopted by the Vermont and Ohio food banks.
Best of all, the success has meant the Citizens Bank Foundation has underwritten an encore here in Rhode Island. This year's campaign has been enhanced in several ways:
NothingStore.org. A virtual store where you can buy a digital can. Every can you buy will appear with your name on an "infinite shelf" with other donors. You will also be able to easily share your can with your social network.
Dozens of new locations and participating stores will be happy to collect any Nothing cans you've filled with change and deliver them to the food bank.
The Nothing Truck. Food trucks are all the rage, and we didn't want to miss out. So this year there will be a Nothing truck driving throughout Providence selling cans of Nothing.