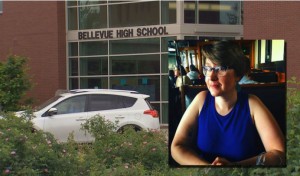 Teacher At Bellevue High School Tells Conservative:
"Your Opinions Are Not Welcome Here"
Awful, but not unexpected in the atmosphere of this very liberal state. I live in Bellevue, Washington, which is next to Seattle. In Seattle, there is at least one professed COMMUNIST, serving on its City Council- Bellevue is supposed to be a little more conservative. So, I was just shocked to read this article:
http://theredelephants.com/teacher-bellevue-high-school-tells-conservative-opinions-not-welcome/
This article includes a letter from one of the teachers at Bellevue High School, to the effect that CONSERVATIVES are NOT WELCOME at that school. This is a person who repeatedly, allegedly, wears, BLACK LIVES MATTER, T-shirts to school– in a state , where a football coach was not permitted to pray for his players.
DO YOU SEE A LITTLE DISCRIMINATORY TREATMENT HERE?!
Our country, America, was founded to PROTECT RELIGIOUS FREEDOM and the rights of ALL of its citizens– but this teacher and a school, who has not admonished her- apparently, give SELECTIVE CIVIL RIGHTS to WHOMEVER THEY WISH.
That is what COMMUNIST COUNTRIES, LIKE CHINA and the FORMER RUSSIA- have done. This attitude and behavior DO NOT– belong in AMERICA.
God Has called me to be a SPIRITUAL WARRIOR = and to WREST THE LAND out of the hands of Satan- which I am doing right here and now, in the mighty name of Jesus and by and through His blood; and we are going to take and overtake and take more land, like KING DAVID DID IN ZIGLAG, in the BIBLE;
and we DECREE and thank you, Lord, that this teacher and school, will apologize for what they have said; and that they now be OPEN for other Americans' opinions; that the students' eyes will be opened to see the phoniness of those who claim to be LIBERAL and OPENMINDED, as long as, it is ONLY THEIR OPINION; and that they are then really going against the CONSTITUTION and laws of our United States; and bring our country back under those laws, all in the mighty name of Jesus and by and through his blood, amen and amen!
I challenge all of you to state your opinions and reactions to this article– and I WELCOME- BOTH LIBERAL AND CONSERVATIVE VIEWS, for such are what make AMERICA GREAT.
Many blessings to you, and with GOD'S great love,
Judge Eve