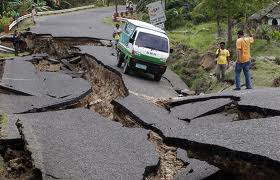 Dear Everyone,
I am amazed at the continuing signs we are getting , especially in California, on the way to the First of the FOUR BLOOD MOONS, this coming April, 2014.
Since March 2, 2014, after a sea wave broke through a restaurant window in Santa Barbara, California, there has been a 6 point earthquake about 50 miles west of Eureka California– and at the same breath it was also announced that , however, there was no tsunami.
At 6:25 am this morning, St. Patrick's Day, 3-17-2014, there was a first announced 4.7 and later corrected to a 4.4 point earthquake in Westwood-Encino areas of Los Angeles, California. The initial jolt was very strong and then rolling ; and lasted for about 15 seconds .
ISN'T IT INTERESTING TO HAVE A 4.4 POINT EARTHQUAKE– SIGNALING THE FOUR BLOOD MOONS??!!!!
It was stated on TV that this earthquake was the strongest one since the 1-17-1994 Northridge earthquake– where I had lived at the time; and, thank the Lord, there were no reports of injuries and/or of damage.
However, dear people, we cannot ignore these ongoing signs of the upcoming huge earth events  and need to be prepared.
Please remember, you hear of a strong earthquake, go to HIGHER GROUND; have first aid , extra food and water at hand- and teach the people around you about safety measures for all types of emergencies.
I have lived in war in Palestine-Israel- and felt prepared to have handled the lack of electricity and water for one week; and being under a curfew at 6 pm, for a week's time, due to my prior similar war experience.
We all tend to be so busy with our daily lives that we don't pay attention to larger issues- and that is why, the Lord had sent prophets to the land, who are the WATCHMEN ON THE WALL- and are able to see forthcoming dangers about which to warn the people.  That is what I am doing here.  Please listen and act to protect yourselves, your families and your properties.
The strange weather patterns we are seeing all over the country are manufactured by HAARP in Alaska and I have read that there has even been WEIRD  SNOW fall in different states. Allegedly, it has a funny odor and does not melt like ordinary snow.
The Lord tells us that MY PEOPLE PERSIH FOR LACK OF KNOWLEDGE– so I pray that some of the knowledge I have and am able to impart to you all, helps protect and save you all, dear people.
Have a blessed day.  With Jesus' great love, judge eve